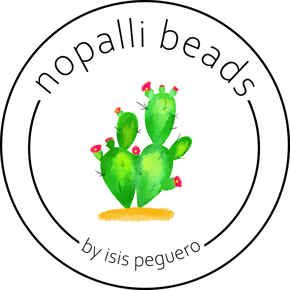 Pialli! Hello! My name is Isis.
Tlazocamati (thank you) for visiting my website. I am an Indigenous Chicana, from Wixarika, Nahua, and Spanish ancestry. My curiosity towards beadwork started at a very early age when my family and I would visit my mother's homelands in Nayarit, Mexico. Beadwork connected me to our culture and I loved that I was able to take it with me everywhere I went. In 2020, I was going through a lot of life changes, and felt called to creating my own beadwork. Beading helped me through those times and has supported my connection to my indigenous identity. It has also given me a way to express my creativity and has made it possible for me to share my medicine with others. ​Nopalli means cactus in Nahuatl, the language of the Nahua. There are many reason why I chose Nopalli as the name of my work. Nopales are symbolism of life and Earth, and they are also a food that I have felt a lot of love through.
I believe so much healing can happen with the support of land, and look for ways to strengthen that connection. I enjoy growing food, birding, fishing, and laying in a hammocks. I also find peace in food both preparing and eating. I currently reside on Occupied Duwamish Territory.
Thank you for supporting my work. I hope that my beadwork supports you in the ways it's supported me.